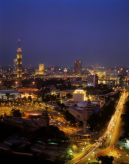 Modern Cairo is soon 150 years old. It was projected with Paris in mind. As Haussmann had drawn wide boulevards through the old and narrow streets of central Paris, so wanted the ruler of Egypt, Khedive Ismail. The occasion was the opening of the Suez Canal: he wanted to impress kings and politicians of Europe.
To large extent, he succeeded. Modern Cairo can remind of Paris, but due to the difference of economical strength between the two countries, many of the houses of modern Cairo is often in bad need of repair. Also, exhaust is today the most common paint in use here. Visitors should also prepare for the frequent sight of beggars.
But try to bring your focus away from the bad things: modern Cairo is delightful for anyone spending some time here. People are open and friendly, there are plenty of shops for tourists suffering from "antique fatigue", there are plenty of cafes and restaurants.