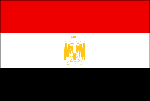 Egypt Flag
Egypt is a country mainly in North Africa, with the Sinai Peninsula forming a land bridge in Southwest Asia. Egypt is thus a transcontinental country, and a major power in Africa, the Mediterranean Basin, the Middle East and the Muslim world. Covering an area of about 1,010,000 square kilometers, Egypt is bordered by the Mediterranean Sea to the north, the Gaza Strip and Israel to the northeast, the Red Sea to the east, Sudan to the south and Libya to the west.
Time zone
GMT + 2
Emergency Telephone numbers
Police: 122
First Aid: 123
Fire Brigade: 125
Banking Hours
Office hours Sunday-Thursday 8:30 – 14:00
Friday and Saturday banks are closed.
All 5 ***** Hotels have banks open 24 hours.
Currency
Egyptian Pound, 1 LE = 100 piaster
1 US Dollar = approx. 5.75 LE
All major credit cards are accepted.
ATM availability
Weather
Mediterranean in Lower Egypt, dry in Upper Egypt and Sinai.
Average temperature: Winter Season  – October until April        60-80 F  / 17-25C
Summer Season – May until September   80-100 F / 32-40C
Passport information
Valid passport required by all and must be valid at least 6 months beyond the intended stay in Egypt.
Visa Information
All visitors must have valid passports. Visas can also be authorized at airports of entry.
Restricted Entry
Video cameras must be declared to the customs upon arrival.
Health Matters
Avoid drinking water from the tab, only use Mineral Water. (Bottles are available everywhere).
Pharmacies are open daily from 09:00 until 21:00. Lots in Cairo are open 24/24.
If you are in need of a doctor, contact the hotel reception.
Clothing
Casual traveling outfit preferably made of cotton. For the sightseeing tours, it is important to take a comfortable pair of shoes. Please note that you cannot visit the Mosques in shorts and mini-skirts.
Population
Approx. 70 millions.
Religion
Approx. 93% Moslem, 7% Christians and minority of Jewish community.
Surfaces
1.001.450 square kilo Meter.
Languages
Arabic is the official language. English and French are spoken widely.
Women in Egypt
Egypt is among the most liberal countries in the Arab world as regards the status of women.
A lack of respect toward a woman in a public place is condemned.
Foreign women can visit Egypt safely.
Culinary specialties
The Egyptian eatery is a mixture of a lot of Mediterranean and local cuisine.
A typical menu is a combination of different typical starters (mazzah):
Tahina, a sesame seed paste mixed with spices and lemon juice; when mixed  with aubergines it became Baba ghanug, and when we replace the aubergines by chick peas we get Hummoss.
Stuffed vine leaves.
There are number of other specialties such as the Mulukhiya, which is a green herbs soup often, flavored with garlic and served with rice chicken or rabbits.
Taamiya or Falafel is little balls made of fried broad beans mixed with herbs and sprinkled with sesame seeds.
Kuchari, rice with lentils and macaroni is served with a tomato and onion sauce.
Kebab, grilled meat with Egyptian spices.
Kofta, different kind of meats mixed with onion and spice.
Shawerma, thin slices of meat.
Photography
Be careful while taking pictures of women and beggars not to offend them. In some Museums, you need a permission to take pictures. It is forbidden to photograph military areas, airports and harbors.
Electricity
220 Volts 50 Hz are most common. 110/380 volts AC may also be used.
Post
There are Post facilities at all the hotels in Egypt.