The oasis in Egypt comprises the many depressions in the desert regions of Egypt. The desert regions include the Western desert and the Eastern desert, where the climatic conditions are very harsh throughout the year. The only places of relief in the deserts are these oases regions. Though these places are densely populated, it represents only a hundredth of the total population of Egypt. It is the Bedouin tribes in chief, who inhabit these oases regions. Agriculture is the chief means of occupation.
Western desert Oases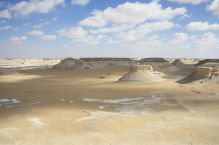 Surrounded by an ocean of sterile sands, the oases are green islands of fertile soil…. Many projects are executed to create a new valley, parallel to the Nile valley, in this so much promising region (more than 5 millions of feddans are available for agriculture)…
The Western Desert of Egypt is all west of the Nile valley, and it is about two thirds of Egypt total country space
The size of the Western Desert is about 680 thousand square kilometers (262 thousand square miles) of desert in all its different forms. Not only are the oases having their own individual personality and nature. The vast sand dune field called the Great Sand Sea, the mountain plateau Gilf Kebir with its valleys, the Black Desert close to Baharia and then suddenly the White Desert north of Farafra.
The government has considered the Western Desert a frontier region and has divided it into two governorates at about the twenty-eighth parallel: Matruh to the north and New Valley (Al Wadi al Jadid) to the south.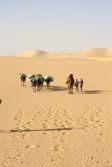 There is five main oases in the western desert plus a sixth which was manmade during pharaonic times. Close to Libya, north of the "Great Sand Sea" is the Siwa Oasis and in what late President Nasser named "the New Valley" you find (from north to south); Baharia, Farafra, Dakhla and Kharga Oasis. Fayoum is south of Cairo and is a very good option for at least visiting one oasis while in Egypt.
The mentioned "New Valley" is in fact the Old Valley as it was here the prehistoric Nile had its course.
You can go in the desert with Stylish Adventures, using 4x4 vehicles, or a minivan and follow the desert roads, we can organize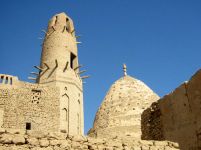 Oasis was originally an Egyptian word (from the Coptic ouahe). Egypt oasis's are still among the most sacred in places in the world, each with a special character of its own. Wherever you stay, you can enjoy the tranquility of the Bedouin lifestyle, date groves, pigeon towers and blue-washed mud houses.
For adventure you can explore the majesty of the desert on camel or jeep, spend a night under the stars and take pleasure in a morning dip in the hot springs.
Major Western Desert Oasis