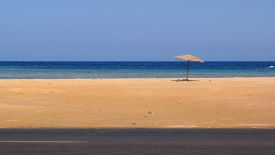 El Ain El Sokhna expects a bright future in Red Sea Area. It is located on Suez gulf, El-Ain El-Sokhna has now many touristic villages and resorts as well as many others under construction.
El-Ain El-Sokhna is one of the beautiful spots on the red sea and the nearest to Cairo. It is considered both a summer and a winter resort, and its sandy beach can vie in beauty with any other in the world. The tourist resort comprises an ultra-modern hotel and bungalows and provides every possible amenity.
It is a favorite spot for water-sports and underwater photography, as well as ideal for camping.
El-Ain El-Sokhna has a warm spring surrounded by palm trees giving the Red Sea mountain area the shape of a small oasis.
El Ain El-Sokhna, in Arabic language means "hot spring", was named after the nearby sulfur springs. The springs originate at Gebel Ataka, the northern most mountains in the Eastern Desert. El Ain El-Sokhna is located about 55 km south of Suez, and is the nearest resort to Cairo about 140 km , just an hour away by car.
El Ain El-Sokhna extends along the Red Sea shoreline for about 60 km from the southern borders of Ras El Adebbya in the north to Ras El Zaafarana in the south.
In addition, Ain El Sukhna is a year-round resort destination distinguished by temperate climate. Turquoise waters are rich in marine life and coral reefs, perfect for divers and snorkelers. With a constant breeze, windsurfing is popular. Inland, desert safaris in the nearby oasis and mountain canyons add to the list of attractions
El Ain El-Sokhna consists of two natural springs, their temperatures are 35.C
The first spring is under the foot of Ataqa Mountain about 54 km south of Gulf of Suez.
The second spring is inside the campus of Ain Sokhna hotel, it is considered one of the most attractive areas for visitors and foreigners. This refers to the beauty of nature and the region is distinguished by many high mountains , the soft sand , clear water and summer visitors who can practise fishing, diving, skating on water, mountains climbing and riding Altliverik.
El Ain El-Sokhna also plays the important role in the therapeutic tourism in Egypt because it contains a lot of sulfur and mineral springs which help to cure a lot of diseases.