Egypt's Red Sea coast runs from the Gulf of Suez to the Sudanese border. Its mineral-rich red mountain ranges inspired the mariners of antiquity to name the sea Mare Rostrum, or the Red Sea.
Hermits seeking seclusion founded early Christian monasteries here, sharing the wilderness with camel-trading Bedouin tribes. Today, the crags and limestone wadis of the Eastern Desert remain relatively unexplored, home to ibex and gazelle. But the Red Sea itself, dotted with coral reefs, fringed by ancient ports, teeming with underwater life, has a rich maritime history which stretches back to Pharaonic times.
The thermal winds that once sped clippers to the East still bring thousands of migrating birds to the shores of the Red Sea, making it a paradise for bird-watchers. Today, the ancient ports are better known as some of the best diving and fishing resorts in the world.
Here, you will find over 800 fish species, including the deadly stone-fish, the equally dangerous butterfly-fish, as well as surgeon fish, jellyfish such as the cassiopei, crabs that sometimes overrun the shore in the evening and some species of shark. Sunbathers relax on white sand beaches, or find shade in the mangrove lagoons that line the coast, while snorkelers explore the reefs. And the underwater wonder of the Red Sea remains a living tapestry of vibrant corals and exotic fish, waiting for you to discover its secrets.
If you love that heady combination of Arabian Desert bordered by palm-fringed, glittering beaches, then holidays on the Red Sea are for you.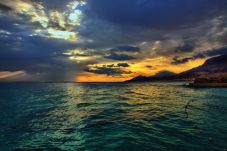 Backed by romantic deserts capes and crimson-colored Rocky Mountains, Egypt's Red Sea resorts boast sugary, soft sands straight from a fairytale. Just inches away, bright jade and blue seas of unbelievable clarity embrace a dazzling array of undersea life, from sensational coral gardens to vast shoals of tropical fish, as well as turtles and dolphins. And all around, cloudless blue skies and un-spoilt views over faraway mountains and distant palm groves add an intoxicating aura of Eastern exotica. For sun-seekers, water-lovers and scuba divers, it's little short of heaven.
When it comes to the resorts, there's a surprising variety to make your Red Sea holidays perfect.
In lively partying-and-family town of Hurghada, you'll find atmospheric bazaars perfect for souvenir-hunting, chic shopping malls and great nighttime entertainment.
And whether you're looking for late deals, all inclusive holidays or fantastic-value cheap holidays to the Red Sea