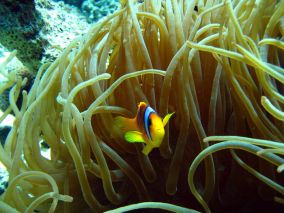 Al Quseir has an unique position due to its proximity to the Nile River and known in Ptolemaic times as the White Harbor. It has a long history as one of the major ports of the Red Sea. This location made it one of the most important ports in Egypt. Quseir was where Queen Hatshepsut set off from on an expedition to the mystical African land of Punt, as depicted in the reliefs in Deir el-Bahari temple at Luxor. Legend has it that the expedition returned with two live panthers and 31 incense trees. The 16th century fortress of Sultan Selim, still standing in the center of town, shows Al-Quseir's former strategic importance. On top of that, it was also a major point for pilgrims leaving for Mecca, as well as a significant trade route for spices from India to Britain. The ancient city of Berenice, named by Ptolemy II, became a trading port in 275 BC. The port is renowned for the exportation of phosphates.
Al Quseir street
Nowadays it is a quiet resort with sandy beaches, clear waters and coral reefs. The coast is lined with mangrove swamps and unspoiled bays and coves. Al Quseir is transformed into a luxuries tourist destination due to its sandy beaches and coral reefs which make it an idle place for diving and snorkeling. Al Quseir is and environmentally aware area to ensure that the coral reefs are preserved. Al Quseir is not just a seaside resort it has some historical buildings with French and British styles that are kept intact. The town's narrow streets are lined with colorful bazaars which have a decidedly Bedouin accent. An ancient caravan trail, to Qift in the Nile Valley, leads from Al-Quseir through the mountains, passing several Pharaonic and Roman sites.
Furthermore, since Al Quseir is not only a seaside resort, but one also of historical importance, local officials are trying to ensure the city's heritage is kept safe. Old buildings built in the classic French and British styles, with large terraces and wooden balconies, need to be protected from being sold and demolished. An association has been set up to accomplish these goals, so that Al-Quseir can retain its wonderful old essence while emerging as a first rate tourist destination.
The recently restored fort now hosts a fascinating Visitors' Center with displays of local history, archaeology, and culture. Plus, for the tourist, there are many more equally interesting sites to be found in the immediate area, such as the mines at Bir Umm Fawakir, the rock pictures at Wadi Russumat, and the vast Roman settlement at Mons Claudianus.
So today, Al- Quseir is one of those actually unusual places in Egypt where one may go for some scuba diving in the Red Sea or spend a comfortable afternoon sunbathing on a pristine beach, and at the same time, visit historical sites located only a stone's throw away.