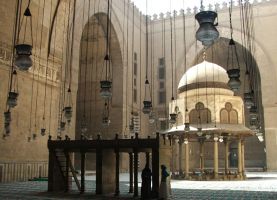 The Mosque is one of the most wonderful Islamic monuments in the Islamic world. The founder of this gigantic mosque is the Sultan Hassan, son of the great Mamluke Sultan Al-Nasser Mohamed Ibn Qalawoun. Sultan Hassan ruled twice, the first time in 1347, when he was 13 years old, only to be dethroned by the other Mamluke princes and generals. The second time was in 1356A.D, and before he had time to put an end to the power of the princes and high officials, they revolted against him, and the chief of the army with other generals attacked him. It said that he escaped from the Citadel and hid in Cairo; but he was found and imprisoned, never to be seen again! Most probably he was murdered 16 years after his ascension to the throne. Either way, he left 10 sons and 6 daughters
The mosque was built close to the Citadel, on the site of the Palace of Yalbugha al Yahawws. This was meant as a pleasing site for the Sultan to look down on from his palace in the Citadel.
Looking down from the Citadel at the Mosque of Sultan Hasan todayDuring the medieval era, an open space connected the mosque and the Citadel. This proximity and the mosque's sturdiness gave the mosque a unique strategic significance. Ibn Ilyas reported that it was used by Mamluk rebels as a fort to attack the Citadel from. Al-Maqrizi, noted that "as soon as there occurred strife between the people the state, a number of amirs and others ascended to the top of the mosque and began to bombard the Citadel from there". For this reason, the Sultan Janbulat tried to demolish the mosque, but after three days of attempted demolition, he had little success and gave up. Al-Maqrizi noted that the Sultan Barquq demolished the stairs to the two minarets to make it less useful in attacks against the citadel.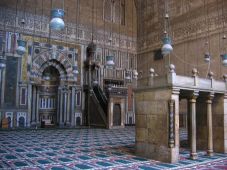 The sheer size of the mosque set it apart. Al-Maqrizi noted that the height of the large iwan was superlative. It measured 65 cubits, five higher than another notably large mosque, the Iwan of Kusraw at Al-Mada'in in Iraq.
Several unique features about the mosque should also be noted. Al-Maqrizi noted that the great dome that was not equaled in Egypt, Syria, the Maghreb, or Yemen. Despite the thickness of the mausoleum walls, the dome was made of wood. The mosque's dome was of an uncommon shape, that of an egg. The positioning of the mausoleum between two minarets was quite novel. Four minarets were planned, but they were never completed. This was an exceptional number for a mosque. The design of the twin portal minarets was uncommon as was the gigantic size of the mosque. The mosque is the only instance of chinoiserie in Mamluk architecture.