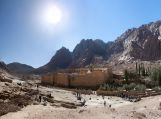 Approximately 20 million years ago, what are today Egypt , Sinai, and the Arab Peninsula , were all united in a single block. Then a huge earthquake separated the land, isolating the southern Sinai Peninsula, about 300 miles east of Cairo , and giving rise to two large gulfs. The Gulf of Suez lies to the west and is 315 feet deep, whereas to the east, the Gulf of Aqaba is 5,905 feet deep. The mountains in Sinai range from 2,461 to 85,301 feet above sea level. The most impressive and renown mountains are Mt. Sinai (Moses' Mountain), that reaches 7,400 feet in height, and St. Catherine's Mountain, which stands 8,665 feet high.
Archeologists have ascertained that Sinai's earliest know settlers were miners, drawn by the region's abundant copper and turquoise deposits. Five thousand years ago, the Egyptians were already masters of the Sinai mines, and for the next 2000 years, they mined great quantities of turquoise. They carved brilliant blue-green scarabs from it, and colored everything from fine statuettes to bricks with the bright mineral enamels made from powdered turquoise. Sinai also has a wealth of indescribably beautiful scenery, with shaded sandy beaches spread along the Mediterranean shores and golden sands surrounding bays of clear blue water along the Gulf of the Aqaba and the Gulf of Suez . Here, popular water sports include scuba diving, snorkeling, wind surfing, and fishing. Quiet walks reveal the rare marine life and exquisitely colored rocks that are surrounded by huge valleys that lead to the holy mountains.
The best-known town of southern Sinai is the beautiful resort of Sharm El Sheikh, one of the greatest tourist successes in recent years. It is protected by the holy mountains behind it and the incredible blue water of the Red Sea in front, making it one of the world's most attractive seaside playgrounds. It is also one of the world's most legendary diving spots.
Whatever you choose to do in Sinai, you will be surrounded by unsurpassed natural beauty, and you will remember this part of your trip as truly unforgettable!