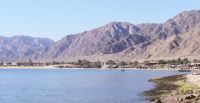 Nuweiba is a place for full relaxation on wonderful sandy beaches, among the nicest in all of Sinai, in total harmony with the incredible surrounding nature. Nuweiba is the only small town in the Red Sea Riviera still preserving the real original spirit of a Bedouin fishermen village, far from pollution and noise, with a few 4* resorts and several camps and simple hotels. Don't miss a safari to the Coloured Canyon!
Coming from Dahab, Nuweiba appears to most as nothing but an unsuccessful copy. The place aims at almost the same clients, but there is simple less of everything in Nuweiba.
The town seems almost to be Dahab, only much smaller and less friendly. But where the mix of cool, laidback youngsters and relaxed package tourists, tip to the advantage of the first group, Nuweiba is mostly for families and middle-aged tourists.
Much of what has struck Nuweiba is the decline in Israeli tourism in recent years. This has in particular affected the Bedouin camp of Tarabeen, which was the nicest part of Nuweiba, with its camping grounds and sandy beaches.