Farafra Oasis is probably the smallest oasis situated in the Western part of Egypt. It is basically located in the desert of Libya, between the regions of Bahariya and Dakhla. Since a long time, this place has been entertaining a large number of international tourists, who come here to get a glance of the nearby hot springs at El-Mufid Lake and the Bir Setta.
However, the main attraction of Farafra lies in its White Desert and Sahara el Beyda. This spectacular White Desert of Egypt is located about 45 km north to Farafra. In the desert, there is a white, cream colored massive chalk rock formation that was formed by the sandstorms.
The Farafra oasis also houses the Farafra Art Museum, which was established by the talented local artist Badr Abdel Moghny Aly. This museum basically exhibits a rich collection of his art works.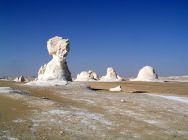 The typical architecture of the buildings in this area will also draw the attention of the tourists. Here the houses are made of mud and brick and have doors made of wood. Often, some of the residences are decorated with the paintings of birds, animals, landscapes and the works of Badr, a local artist. Apart from this, the museum and studio depicting his paintings and ceramics are located in a garden of sculptures. Excursions by camel treks and jeep safaris from this place to visit the magnificent White Desert, Dakhla, Bahariya and Siwa can be organized through the restaurant of Saad.